PToday's recipes are a special edition of Cook once, Eat twice! Its SLOW COOKING NIGHT! Oh, how I love my crock pot. I even belong to groups on Cafe Mom that are just for slow cooking moms! :) So this one will be listed under C.O.E.T. and Crock pot Meals! Enjoy!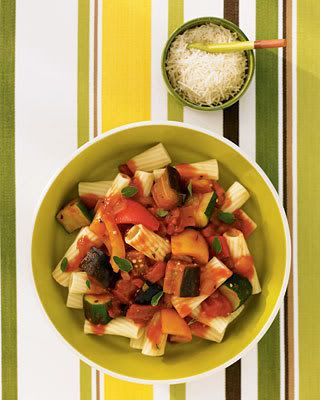 NIGHT ONE:
Ratatouille with Pasta
Grocery List:
1 medium onion, chopped
3 tsp chopped garlic (3 cloves)
1 medium eggplant (1 1/2 lb)
3 medium zucchini (1 1/2 lb)
2 bell peppers
6 plum tomatoes
1 can (8 oz) tomato sauce
1 Tbsp each chopped fresh oregano and thyme (or 1 tsp each dried)
1/2 tsp salt and pepper
2 Tbsp each red wine vinegar and extra-virgin olive oil
1 lb rigatoni pasta
Grated Parmesan

How to make it:
1. Place onion and garlic in a 6-qt slow-cooker.
2. Cut eggplant, zucchini, peppers and tomatoes into 1-in. chunks; toss in large bowl with tomato sauce, herbs, salt and pepper. Add to slow-cooker.
3. Cook on low 5 to 8 hours until vegetables are tender. Stir in vinegar and oil.
4. Remove 3 cups ratatouille; save for Pan Bagna recipe. (Ratatouille can be refrigerated for up to 1 week.)
5. Cook rigatoni as box directs; toss with ratatouille. Serve with Parmesan.
Nutritional Information:
360cal
4g fat
7g fiber
7 WW points

NIGHT TWO:
Pan Bagna

Grocery List:
One 8-in. round loaf Italian bread (about 1 lb)
2 cans (6 oz each) solid light tuna, packed in olive oil
2 Tbsp balsamic vinegar
2 cups arugula
1 Tbsp nonpareil capers
3 cups ratatouille (from Ratatouille with Pasta recipe)

How to make it:
1. Cut bread in half horizontally. Scoop out bread from top and bottom so that you're left with about a 1-in.-thick shell.
2. Drain 1/4 cup oil from tuna into a small bowl; whisk in vinegar. Brush dressing over cut sides of bread.
3. Arrange arugula on bread bottom; spoon on tuna. Stir capers into ratatouille; spoon on top. Cover with bread top and wrap in plastic wrap. Refrigerate at least 1 hour or overnight. Cut into wedges.
Nutritional Information:
319cal
18g fat
5g fiber
9 WW points