Hey Everyone! So you all know that Patty and I teamed up on her awesome blog idea, "Cook it, Blog it". But since her amazing fabric line, Andalucia, has launched, she is so busy that she didn't feel she was able to keep it going! So we teamed up once again, and now Cook it, blog it, will be run by ME, the Gourmet Momma! :)

You can new find Cook it, Blog it HERE!!

Its so exciting, and I am so honored that Patty asked me to take over for her!

So how does it work? Well, its really very simple.
Step 1: COOK IT! Make something really yummy.
Step 2: BLOG IT! Take a picture and blog about your cooking, share your recipe and any tips you have with other awesome blog chicks!

Want to get added to the cook it, blog it list? Simply leave a comment HERE, and I will add you. This link will be available at the top of the blog in the next few days so you don't have to spend your time searching for it! :)

Thanks again Patty, I love ya! And thank you to all you awesome Cooking Divas out there! Let make Cook it, Blog it a great place for fun, food, and inspiration!

**Also, Cook it, Blog it has a Flickr group for sharing all your photos, so remember to hop over there and share as well.

And if you are already on the blog roll for cook it blog it, or you just joined, make sure to snag this spiffy banner for your blog.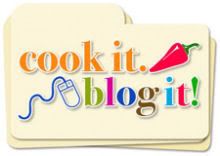 (I will have this available to snag and link back on the blog sidebar in the next day or so also!!)